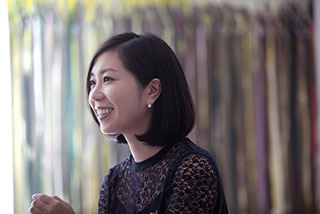 Midori Sato
[Profile]
Biography
1984 Born in Aichi, Japan
2008 Bachelor, Art Course, Nagoya University of Arts
2010 Master, Major in Fine Arts, Tokyo Zokei University
Lives and works in Tokyo

Selected Solo Exhibitions
2012
"project N 48 SATO Midori", Tokyo Opera City Art Gallery, Tokyo
2016
"Eternal Moment", SCÈNE, Tokyo
"Secret Garden", 8/ART GALLERY/Tomio Koyama Gallery, Tokyo
2018
"Orange glow", Green Flowers Art, Paris
2019
"Glimmer of night", SCÈNE, Tokyo
"Bouquets", 8/ART GALLERY/Tomio Koyama Gallery, Tokyo

Grants and Awards
2013
"VOCA 2013", judge prize of Ohara Museum of Art
2017-18
Received Grants for Overseas Study by Young Artists from Pola Art Foundation (Paris)

[Overview]
Using oil paint and acrylics, Sato depicts clothes and shoes crowded in closets, decoratively patterned carpets, and richly colored flowers. While she concentrates on feminine motifs such as dresses, high heel shoes, flowers and fruit, her powerful brushstrokes convey physicality, and her vibrant colors and consciously frontal compositions reflect her pursuit of a unique expression. Aside from exhibiting in solo and group exhibitions, Sato's activities extend to book cover designs and illustrations for novels.
Sato has primarily produced paintings of clothes and shoes lined up in confined spaces for her Closet series. Diaphanous petals dramatically departs from this pattern as Sato instead expresses open plan Atrium gallery space filled with soft natural light streaming through glass panels. Blurred faint brushstroke traces, lines of dripped paint, and the confluence of wet oil and acrylic paint create glittering light and a halation-like effect. After studying in France 2017-2018, Sato became interested in classical motifs. The garments in her calculated compositions of shop windows seem like evanescent transparent (i.e. diaphanous) petals having a presence similar to portraits.