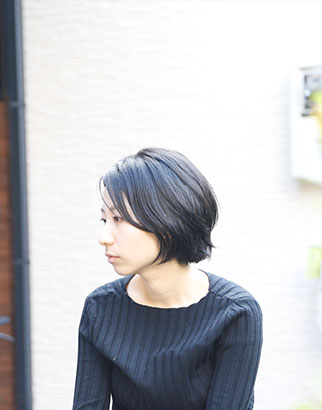 TOMOMI HANZAWA
[Profile]
Biography
1988 Born in Tochigi, Japan
2010 BFA,in Sculpture, Joshibi University of art and design
2014-2017 Lecturer (part-time) at Sculpture Course, Joshibi University of art and design
Lives and works in Tokyo

Selected Solo Exhibitions
2013 White Atmosphere, Gallery Promo-arte, Tokyo
2013 Black scenery, Gallery RUTAN, Tokyo
2015 Afururu Taru, GALLERY IRIYA, Tokyo
2016 Grey integument, Galleria grafica bis, Tokyo
2017 See, JINEN GALLERY, Tokyo

Grants and Award
2016 FINE ART / UNIVERSITY SELECTION 2016-2017, Excellent Work Award, Japan
2018 Grant for Overseas Study by Young Artists, Pola Art Foundation (United States, Mexico and Canada), Japan

[Overview]
Tomomi Hanzawa (1988 - ) creates her distinctive works using Japanese washi paper plant fibers as her materials. She has recently been producing three-dimensional pieces on a life-size human scale. The structures, like the human body, need a strong framework to support the bulk of the weight attached. Hanzawa chose a metal mesh for this framework. As clumpy paper pulp is poured, fibers become entangled in the net and, through a process of several repetitions, gradually flesh out a form. When dry, the solid material takes on a definite three-dimensional form, like a human body. Once the shape is finalized, inner and outer surfaces appear and, like the human spirit, have transformative influences.
While creating her three-dimensional and semi-three-dimensional forms in 2018, Hanzawa trained at a paper studio in the United States. She took the opportunity to also survey local handmade paper techniques in Mexico and Canada and produced her monotone Drawings on Paper (2018) series using local Kenaf and cotton fibers and the tamesuki papermaking method, whereby washi stock materials are applied in layers and pressed. As a result, these were flat, in contrast to her previous three-dimensional works. Repeated layering and pressing of different types of stock allowed random variations of thickness and pattern-like forms to emerge on the surface.
The Histories of the Self (2019) series featured in this exhibition developed from Hanzawa's 'drawings from papermaking.' Each of the works in the series has its own character, depending on how red, green, purple, brown and other paper stock particles were layered and pressed. Hanzawa calls differences 'personality' and even refers to the works as 'selves.' Various elements make up a 'self' – the place one was born and raised, family, friends, etc. – and Hanzawa believes that stacks of fiber built through papermaking reflect such relationships. Even without a metal mesh framework, individual differences stand out because of irregularities in the flat surfaces. It is like the effect the changing context and color of the earth has on variation seen humans and in all living things.
The process of 'drying' is also an important element of Hanzawa's work. The first step is, of course, to press out as much water as possible to allow the fibers to blend and then letting the paper dry slowly on a board. After that, it is necessary to allow time for persimmon tannin and color coatings to soak in, and for drying oil, such as linseed or walnut oil, to permeate until a soft gloss appears. Although Hanzawa tries to control the amount of persimmon tannin and drying oil, the drying time is affected by the environment and often does not go as planned. Other unexpected conditions and effects also arise. The works are self-contained and independent. This, actually, is what Hanzawa, is seeking.