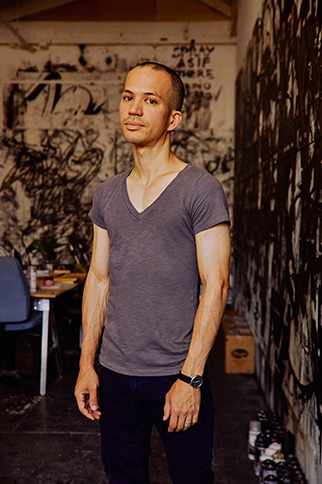 Enrico Isamu Ōyama in his Brooklyn studio / 2018
Photo © Collin Hughes
Enrico Isamu Ōyama
[Profile]
Enrico Isamu Ōyama is currently based in New York City. He became interested in aerosol writing (graffiti) in public spaces such as subway cars and buildings. By removing elements such as letters and color from its visual expression, Ōyama extracted a type of dynamic line called Quick Turn and developed it into what he calls his Quick Turn Structure (QTS). Over the past 15 years he has been expanding the scope of his production to include various mediums such as canvas, walls, found objects, and clothing (in collaboration with COMME des GARÇONS for the 2012 SS collection).
[Overview]
The exhibition title, Kairosphere, is a portmanteau coined by Ōyama from kairos, meaning 'time' and the suffix sphere meaning 'realm' or 'amorphous gaseous layer' such as in 'stratosphere' or 'atmosphere.' Further, 'kairos' is a subjective concept of time, referring to Ōyama's internal sense of time as he creates his works. Kairosphere, then, denotes a gently expanding spatio-temporal space.
Based on this concept, this exhibition presents milestones of Ōyama's work along with the painting FFIGURATI #207 (2018) that can be viewed as the culmination of all his past production activities. We hope that by presenting together in this exhibition the documentation of Ōyama's first proposed public space work Keio Shiki Senior High School Mural (2003), FFIGURATI #9 (2009) where QTS painted on acrylic cubes seems to float in space, and FFIGURATI #245 (2019) site-specific installation for the Pola Museum of Art, we can create a new 'time space' environment, or rather a 'worksphere,' spanning Ōyama's past and present works.