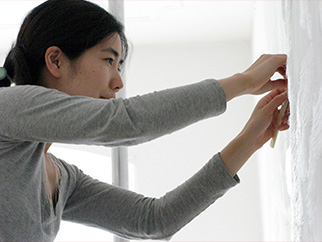 KEI TAKEMURA
[Profile]
Kei Takemura (b. 1975, Tokyo), lives and works in Takasaki. Takemura has continued to present works that are comprised of overlapping a layer of embroidered cloth on to a photograph or drawing. Takemura participated in the 15th Biennale of Sydney, and has consistently continued to strengthen her international presence while expanding her areas of activity. Major solo exhibition include A part Apart, Tokyo Wonder Site,Tokyo (2008), Kei Takemura, Institute of Contemporary Arts Singapore, Singapore(2012),Which second was the most beautiful?, Galerie Patrick Ebensperger, Berlin(2017).

[Overview]
Covering drawings and photos with embroidered thin cloth, Takemura narrates the story of her personal life, the lives of her close friends and, with memories, reconstructs what has been lost or forgotten. With glue and stitches of thread that shine white on  the diaphanous cloth wrappings, she produces a series of "renovated" personal objects that had been damaged by wear and tear, and creates a new aesthetic value.
 This exhibition is themed on coincidence and memory of collected chance moments. Takemura's recent playing card motif works speak to shared meaning across different cultures. Twenty-four works of her Playing Cards 2017, Austrian Cards on German Cards series feature German cards in the foreground overlaid with Austrian card designs embroidered on fabric with Japanese silk thread, to portray images of chance and the compatibility of diverse time and place. Using the motif of the popular Indonesian card game of Dominos sewing images with sturdy Japanese silk thread into thin cloth, her Playing Dominos in J. City as well captures the chance shapes of the lines of cards that materialize when people gather by chance for a game.
 We sincerely hope visitors will enjoy the beauty of the accidental moment captured by Takemura.