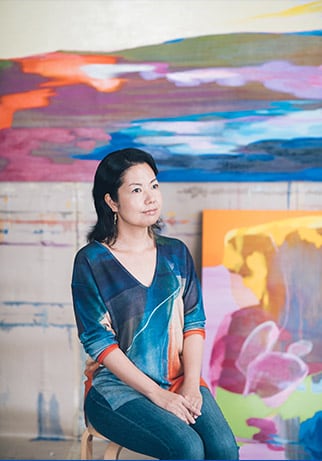 Manika Nagare
[Profile]
Biography
1975  Born in Osaka, Japan
1997  Graduated from the Faculty of Painting in Joshibi College of Fine Arts
2013 Artist-in-Residency Program as a visiting fellow at Gakushuin Women's College The Founder of the NPO "Artist for a Day"
 
Scholarships, Grants and Awards
2001  Received Tokyo Wonder Wall Awards Committee Chairman's Prize
2002  Participated in the Japanese Government Overseas Study Program for Artists provided by the Agency for Cultural Affairs (New York)
2004  Received Grants for Overseas Study by Young Artists from Pola Art Foundation (New York and Turkey)

[Overview]
Manika Nagare's paintings are composed of layers of vivid color. While fluidly abstract, her images are based on actual human figures and landscapes that have caught her interest.
Nagare pursued a commonality with Impressionist paintings for this exhibition through her use of bright color. Her Skin Warmth (2017), for example, relates to Renoir's Young Woman Bathing (1888), and her Neither Rain nor Shine (2017) is inspired by van Gogh's Clumps of Grass (1889). The two Impressionist paintings are in the collection of the Pola Museum of Art. In her latest works, she incorporates her perceptions of the Japanese qualities of 'shadow' and 'vagueness' while reconstructing color motifs of Monet's Water Lily Pond (1899) of over a century ago. Nagare's new series Tracing the Colors achieves depth of color through her technique of layering paint. The exhibition space is constructed to allow visitors a feeling of integration with the Neither Rain nor Shine images.